delivered by our staff
(NO OUTSOURCING)
Virtual Dementia Tour
Additional charges apply for the weekend
The life changing Virtual Dementia Tour is available anywhere in England, Scotland, Ireland or Wales via one of our 9 mobile dementia simulators (Bus) or in-house training using 2 rooms.
This worldwide, scientifically and medically proven method of giving a person with a healthy brain and experience of what dementia might be like, allows delegates to enter the world of the person and understand which simple changes need to be made to their practice and environment to really improve lives of people with dementia.
Invented 25 years ago in America by Professor PK Beville and owned by Second Wind Dreams, Training 2 CARE are proud to be the UK partners and pioneers in this country. The Virtual Dementia Tour has now been proven during research produced by Ulster University to change practice within 95% of delegates, improve knowledge in 97% of delegates and improve outcomes for 100% of clients.
The Virtual Dementia Tour is taken by over 200,000 people per year in the UK and is the benchmark training that other providers strive to achieve. Already commissioned by over 18 NHS Trusts, 4 HSE Trusts, Care homes, Nursing Homes, Police, Prisons, Ambulance, Universities and Colleges, Councils, CCGs, CQC, Electric and Water Companies, Families and many more, the Virtual Dementia Tour has an impact that just cannot be matched or replicated.
Looking from the persons point of view and not basing practice on convenience really does save money, retain staff, build bridges between the family and care giver and increase positive outcomes. Therefore, if you are looking for the highest quality dementia training that really does change lives for all, then the Virtual Dementia Tour is a must for everyone.
Training 2 CAREs managing director, Glenn Knight comments The Virtual Dementia Tour is quickly becoming the UKs leading training for people who come into direct or indirect contact with people with dementia. Whether you are a family member, shop, service or care provider having a new perspective on dementia really can make the difference. With 1 in 3 people expected to die of dementia related diseases and an aging population now really is the time to make the change and improve the lives of people with dementia.
To book the Virtual Dementia Tour, please follow this web site or contact 01376 573999.
What's the impact of Virtual Dementia Tour training?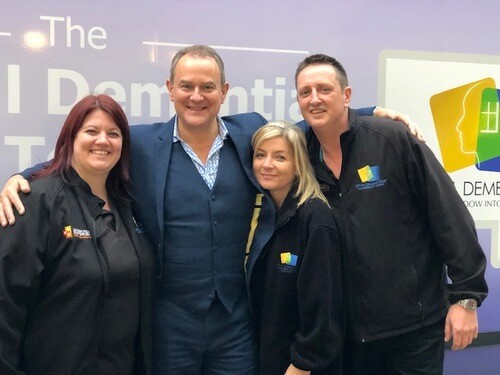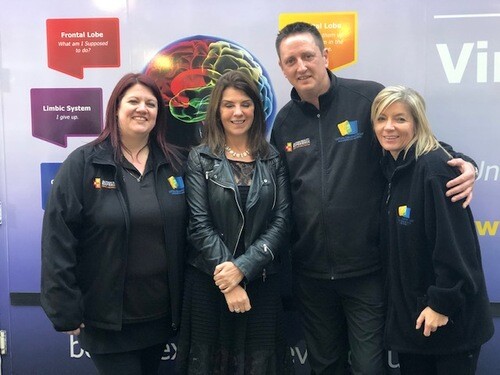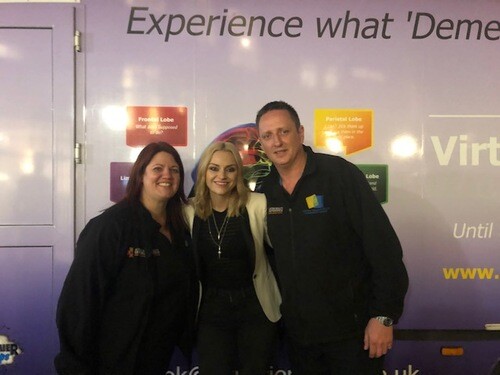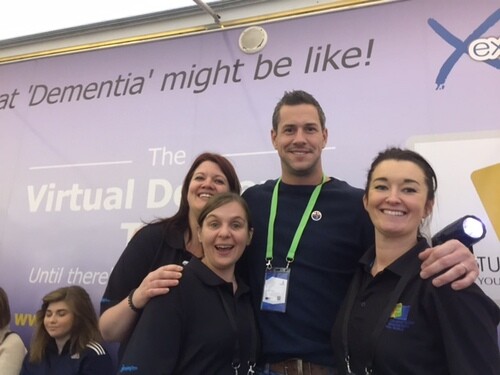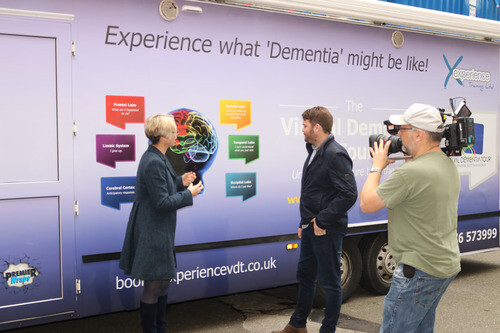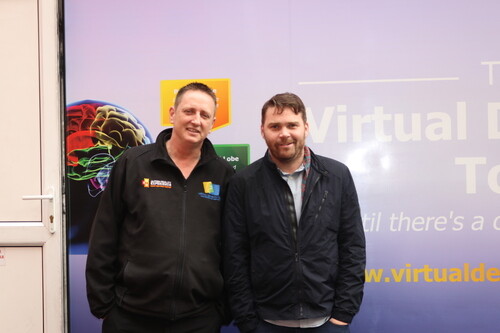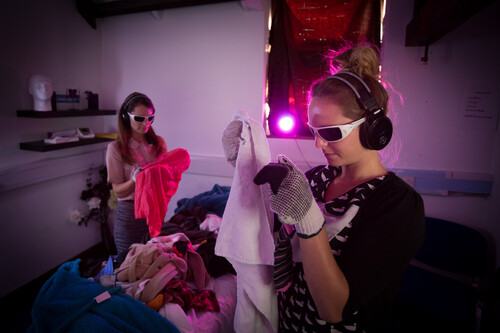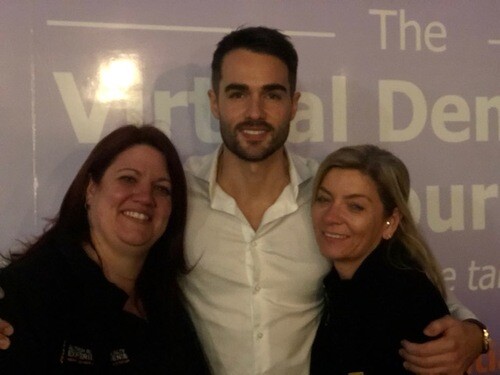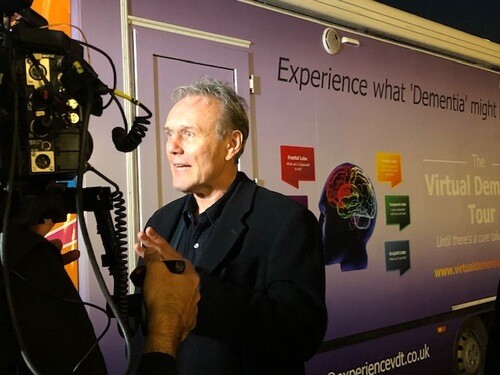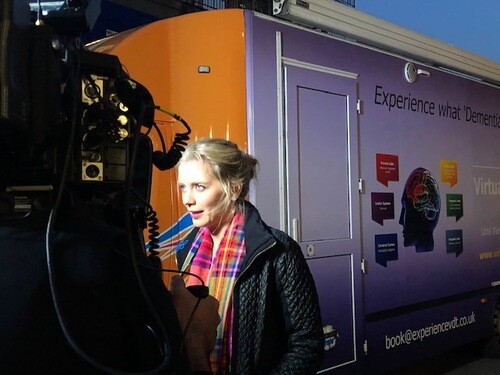 What do we cover?
Second Wind Dreams
The Virtual Dementia Tour was invented 25 years ago, in America by PK Beville who is president of American non profit company Second Wind Dreams. The Virtual Dementia Tour is medically and scientifically proven.
Experience training
Experiential training is like no other training available and by allowing people to have a window into their world, we can start to understand simple improvements needed to reduce costs, improve staff retention, make environmental changes and provide the best outcomes for everyone.
Improve standards
By Walking in the shoes of a person with dementia, we can start to understand the issues that they experience everyday. You will experience being confused, isolated, lost, intimidated, vulnerable and much more and therfore understand what you need to change to improve quality of care.
Improve Lives
Simple changes that are made to improve standards also reflects in improving lives for people with dementia. re-focusing delegates on the needs of the individual rather than convenience to the care provider is the basis of improving lives.
''It helped me make sense of many things with Mum - the shuffling feet, the not hearing/making sense of things particularly - and I am sure I will be able to help her more having done the course. Yesterday afternoon when I went in to see her I sat opposite Mum (instead of beside her, which is how the chairs are arranged) and was rewarded with her lovely smile which can light up a room, yet I haven't seen in quite a while.''
"What an incredible experience and yes, I agree with Glenn, absolutely EVERYONE involved with caring for people with Dementia should do this tour."
OMG!!! Why wasn't this available when my mum was alive and had dementia. I now understand so much more about what she did. Thank you and everyone needs to take this training.
It doesn't matter how long you've worked with people living with dementia, the Virtual Dementia Tour has made me realise the need to learn more. I have worked within nursing and dementia for nearly 30 years and I truly didn't understand until today. This course must be mandatory for everyone working within dementia care.
"What an incredible experience and yes, I agree with Glenn, absolutely EVERYONE involved with caring for people with Dementia should do this tour."
My mum had dementia.She loved listening to me play the violin but she would immediately lose interest.As a result of the VDT, it was explained that you lose the ability to filter out background sounds, I bought an electric violin and played to her over headphones. Amazingly she wore the headphones,began moving her head whenever I played.
The Virtual Dementia Tour is amazing training, thank you so much. This is the best dementia training I've done!"
WHAT'S INVOLVED?
Requirements of the VDT
The Virtual Dementia Tour can be delivered either within one of our 9 the mobile dementia simulators or in the workplace. The mobile unit will come to the workplace. The mobile simulator is ideal for any care facility that has a safe parking area and with 9 mobile units of differing sizes, we can normally accomodate most parking areas. The mobile unit adds to the experience by taking delegates out of their known environment into a controlled but safe place to complete the tour.
If the workplace does not has the space for the mobile unit then we would opt for a classroom version. We would require 2 rooms, the first for the experience and the second for use as a holding room and de-brief room.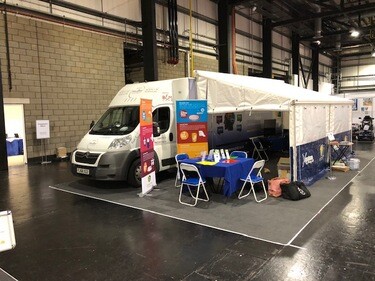 Course length and delegate numbers.
It is important to all involved with the Virtual Dementia Tour that the course is both cost effective and impactful. The course is held over a 2 1/2 hour period for up to 12 delegates and 3 courses per day. This means that we can deliver to 36 delegates per day which helps care providers to manage the floor and release staff at different times so that quality of care is not compromised. Normal start times are:
9.30
12.15
15.00
Please note that it is not possible to add further team members onto the experience and any delegate numbers about 12 will be turned away.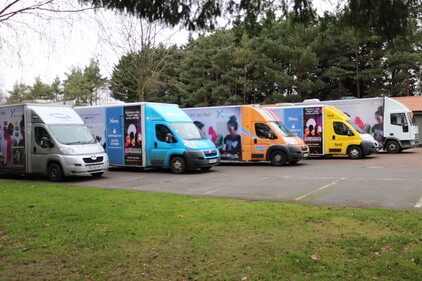 Who should book the VDT
The Virtual Dementia Tour is for everyone who comes into direct or indirect contact with people with dementia. Training 2 CARE are proud that we currently train over 350,000 people per year and a large amount of these are through the Virtual Dementia Tour.
The Virtual Dementia Tour is ideal for care staff, nurses, families, solicitors, police, prison service, ambulance staff, doctors and so many more and with a growing population, diagnosing dementia simplified and impacting on so many families lives, everyone should complete this amazing training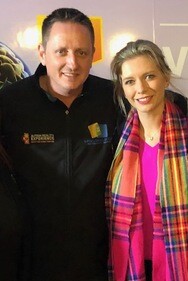 FREQUENTLY ASKED QUESTIONS
How big do the 2 rooms need to be for the in-house training?

One room is for the actual Virtual Dementia Tour experience and needs to be large enough for 4 people minimum and we must be able to control both the internal and external lighting. The second room a holding room and a debrief room which must be large enough to seat 12 delegates and the trainer.

Experience training will bring all the equipment neccessary to conduct the Virtual Dementia Tour.

How long are the sessions and how long do the delegates need to be there for?

The sessions are 2-2.5 hours long, the delegates need to be there for the full duration of the session they are booked onto, the session will comprise of the experience itself, followed by a detailed debrief that lasts around 1-1.5 hours. 

What size is the Mobile Unit?

We usually advise to allow 4-5 car park spaces to be coned off for the mobile unit to be parked in.  The vehicles do have electricity but we would ask for an electrical point to be available for multiple day bookings.

Do we get Certificates after training?

Yes, we issue certificates of attendance which will be accessed through our web site once the course is complete and payment is made.

Is there any difference if I book the mobile unit or in house training?

The actual training itself is no different, it is just literally a different way of providing the training, and is a different cost due to additional fuel, insurances and staff cost.
Have another question or wish to find out more?