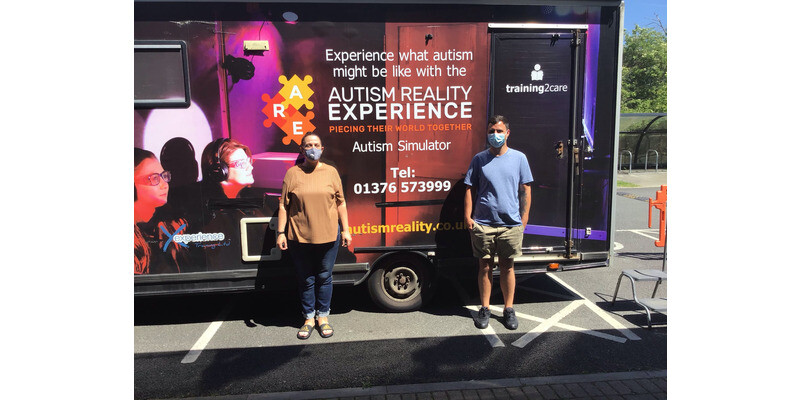 Autism Reality Experience at Essex County Council
Training2Care recently took the Autism Reality Experience to Hampton's Sports and Leisure in Chelmsford where members of Essex County Council took part in the innovative autism simulation.
The Autism Reality Experience has been designed to provide non-sufferers of autism a unique and valuable insight into the challenges faced daily by sufferers of the condition. By understanding the problems faced by those on the spectrum, we can learn how to better care for autistic people and also how procedures, processes and facilities can be adapted to reduce the stress and distressed faced by those with the condition. It is often surprising how seemingly small adaptations and allowances can make a significant different to the mental wellbeing of those on the autism spectrum.
The Autism Reality Experience (ARE) from Training2Care has been commissioned by an extensive range of public and private organisations to allow staff and volunteers a valuable insight into the reality of living with autism. Amongst those that have commissioned the training are the police, ambulance service, care providers, schools, NHS trusts, universities and more. The ARE has also helped the families of autistic people to better understand and better care for loved ones living with the condition.
The law dictates that anyone working within a social care or healthcare setting that will be working alongside autism sufferers have sufficient autism awareness training to ensure they provide adequate care for those on the spectrum. Invented by Training2Care's managing director Glenn Knight and refined with the help of autism sufferers, this is arguable the best possible training for those caring for autistic people as it allows them to 'walk in their shoes'.
The Autism Reality Experience is provided in two levels; Level 1 is an 'Awareness' level training providing an overview of the reality of living with autism. Level 2 is 'Advanced' training which provides a more in-depth insight into autism and is perfect for those who work with, or alongside, those on the spectrum. You can read more about the two levels of Autism Reality Experience at our dedicated page and determine which level will be most suitable for your organisation.
The Training 2 Care Autism Reality Experience is available to care homes, medical trusts, companies, organisations and individuals across the UK and Ireland. If you need any more information or have any questions regards booking your experience then call Training2Care on 01376 573999 or via the contact us section of our website.