Virtual Dementia Tour Travels to Wrexham this February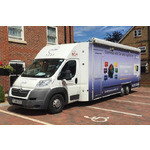 This February, the Virtual Dementia Tour from Training 2 Care will be returning to Wrexham. Last time we visited Wrexham we received some great feedback for those who took the tour.
Our innovative Virtual Dementia bus will be spending four days across various locations in Wrexham. Our tour of Wrexham starts and Bangor-on-Dee on February the 18th where the van will be situated at the village hall. From there we will be moving on to the Pendine Park Care Organisation the 19th and Pheonix Homecare and Support on 20th February 2020. The final stop for the Virtual Dementia Tour in Wrexham is at the Enterprise Hub on February 21st.
The Virtual Dementia Tour helps anyone to understand the everyday challenges faced by suffers of dementia. The tour helps replicate the sensations of suffering from dementia whilst undertaking a serious of regular everyday tasks.
Asides from touring, the Virtual Dementia Tour can also be booked to visit your business or organisation. To find out more about the innovative and powerful Virtual Dementia Tour then you can find out more here. If you have any questions then don't hesitate to contact Training 2 Care and we will be more than happy to answer any questions you may have about the Virtual Dementia Tour.